O'siyo Oginalii ~ Tsilugi

'Hello Friends ~ Welcome!'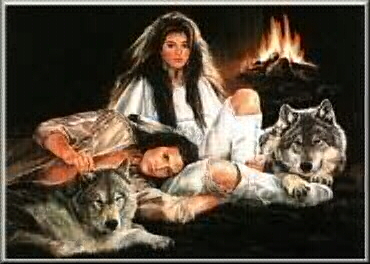 I can finally place an Artist, to this
Beautiful Painting. The Artist is Maija,
name of her painting is, "Companions".

Here, you can read, a little about, her.
Maija

Here, you will find all her Beautiful Art
Kemper Galleries Home
for the Art of Maija

NOTE
I got this Painting, from a free Graphics Site, Feb.2001.
There wasn't a link, giving Credit to the Artist.
I happened to come across a Site, using one of Maija's Paintings,
at Ishaah's Inspirations, link below, with a Link to Maija.
Updated: January 29, 2003





I hope you enjoy my new page.
The Websites below, are very
Informative, Educational, Elightening and Beautiful!!

"Remember...Knowledge Is Key, Without It,
Racism...Will Live On In Ignorance."

By: Karen S.
February 20, 2001
© 2001 2002 2003






Native American Pride

With all things and in all things,
we are relatives. (Sioux)

Love one another and do not
strive for another's undoing. (Seneca)






~An Old Indian Angel~




~Yunsai Society~




~Winter's World~





~Forever Links~





Stars and Stripes... ~Navajo Code Talkers~





~OHIYESA ~Soul Of An Indian~





~POWWOWS.COM~





~Crying Dove's Native American Links~





~Dreaming Spirits HomePage~





~Greywolf & Willow Woman's Lodge~





~Ishaah's Inspirations~





~My Cherokee Heritage~





~Native American & Wolf Graphics~





~Native American Proverbs~





~Native American Spirituality~





~Whispers of the Heart~





Two Dogs ~Buffalo Jump~





~Millenium Mountian





~Cal's Gallery Plus~





~Silent Bear's Den~





~Tracie, Blood Poet 2000~





NEW!!

Meadow BirdSong's
Inspirational and Loving Pgs





Feather Graphics by: Sam Silverhawk.
Please visit his great site!!
Silverhawk's NA Indian Graphics
Thanks Sam;-)





A Nation is not conquered,
until the hearts of it's women
are on the ground.
Then it is done,
  no matter how brave it's Warriors.
or how strong their weapons.

From: ~Whispers Of The Heart~
WebSite






NEW!!

Meadow Birdsong's Bead Weaving
Click Here










USA Pride Banners
Sept. 11, 2001:
A day we will never forget.
Click Here



Please, don't forget to sign my Guestbook.

Thanks